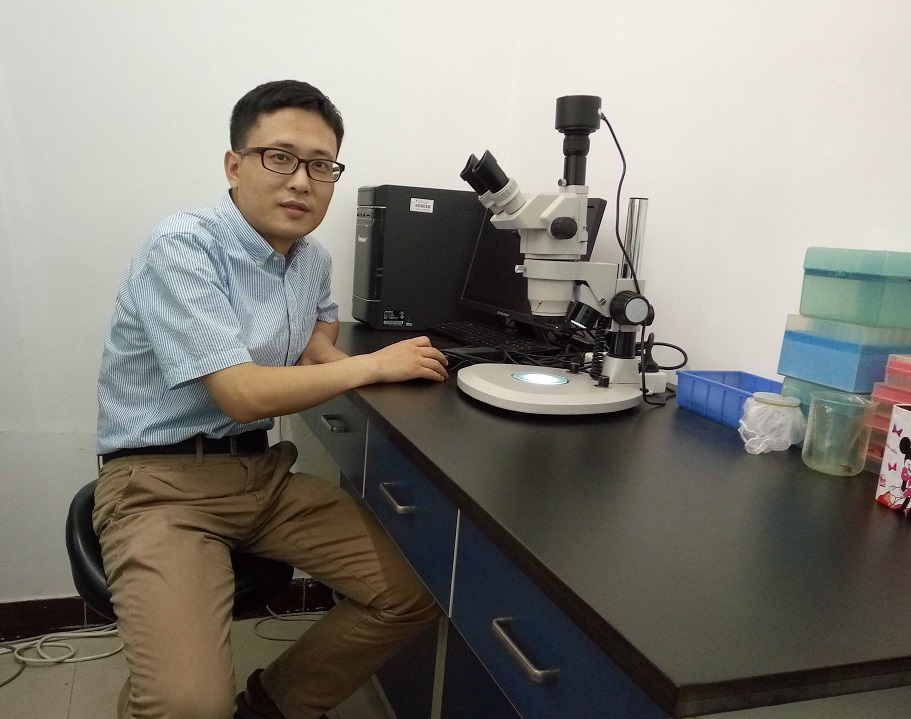 刘伟治,教授 博士生导师
1个人简历
2003.09-2006.07,中科院上海药物研究所,博士
2006.12-2010.05,科罗拉多大学医学健康中心,博士后
2010.05-2011.05,耶鲁大学药学系,博士后
2011.05-2012.10,耶鲁大学药学系,助理研究员
2012.10-至今,中国海洋大学海洋生命学院,教授,博士生导师
2学术兼职
山东生化与分子生物学学会常务理事
山东物理学会生物物理专业委员会委员
3主要研究方向及成果
研究方向:综合利用多组学技术,结构生物学及蛋白工程技术,开展海洋多糖降解酶及海洋生物粘附蛋白的发掘及应用基础研究。
2012年,在中国海洋大学组建海洋生物酶研究团队。迄今为止,研究团队已经承担、参与了国家及省部级课题8项,产学研项目1项。已在Mol Cell, Nucleic Acids Research, Biochim Biophys Acta-Gen Subjects. Sci.Rep 等国际知名学术期刊上发表了数十篇SCI文章,申请发明专利6项,授权1项。
4课题组代表性文章
1.Zhuang J, Zhang K, Liu X, Liu W, Lyu Q*, Ji A*.Characterization of a novel PolyM-Preferred Alginate Lyase from Marine Vibrio splendidus OU02.Mar Drugs. 2018 Aug 22;16(9). pii: E295. doi: 10.3390/md16090295.
2.Xiaokang Zhang1, Xiaoting Dai1, Lulu Wang, Yan Miao, Pingping Xu, Pengyu Liang, Bo Dong, Zhenmin Bao, Shi Wang, Qianqian Lyu*, Weizhi Liu*. Characterization of an atypical metalloproteinase inhibitors like protein(Sbp8-1) from scallop byssus. Front Physiol. 2018 May 23;9:597. doi: 10.3389/fphys.2018.00597. eCollection 2018.
3. Lyu Q, Zhang K, Zhu Q, Li Z, Liu Y, Fitzek E, Yohe T, Zhao L, Li W, Liu T, Yin Y, Liu W*.Structural and biochemical characterization of a multidomain alginate lyase reveals a novel role of CBM32 in CAZymes.Biochim Biophys Acta-Gen Subjects. 2018 Jun 1;1862(9):1862-1869.
4.Ren Y, Pan X, Lyu Q, Liu W*.Biochemical characterization of a fibrinolytic enzyme composed of multiple fragments.Acta Biochim Biophys Sin (Shanghai). 2018, 50(2):227-229.
5.Lyu Q, Jiao W, Zhang K, Bao Z, Wang S, Liu W*. Proteomic analysis of scallophepatopancreatic extract providesinsights into marine polysaccharide digestion.Scientific Reports. 2016,16;6:34866.
6.Lyu Q, Shi Y, Wang S, Yang Y, Han B, Liu W, Jones DN, Liu W *. Structural and biochemical insights into the degradation mechanism of chitosan by chitosanase OU01.Biochim Biophys Acta- Gen Subjects. 2015;1850(9):1953-1961.
7. Miao Y, Zhang L, Sun Y, Jiao W, Li Y, Sun J, Wang Y, Wang S, Bao Z*, Liu W *. Integration of Transcriptomic and Proteomic Approaches Provides a Core Set of Genes for Understanding of Scallop Attachment.Mar Biotechnol (NY). 2015 :17(5):523-532
8.Fisher OS, Liu W, Zhang R, Stiegler AL, Ghedia S, Weber JL, Boggon TJ. Structural basis for the disruption of the Cerebral Cavernous Malformations 2 (CCM2) interaction with Krev Interaction Trapped 1 (KRIT1) by disease-associated mutations. J Biol Chem. 2015:290(5):2842-2853;
9.Gifford SM§, Liu W§, Mader CC, Halo TL, Machida K, Boggon TJ, Koleske AJ. Two Amino Acid Residues Confer Different Binding Affinities of Abelson Family Kinase Src Homology 2 Domains for Phosphorylated Cortactin. J Biol Chem.2014, 289(28):19704-19713
10. Lyu Q, Wang S, Xu W, Han B, Liu W, Jones DN, Liu W. *.Structural insights into the substrate binding mechanism for a novel chitosanase. Biochemical Journal. (2014),461(2):335-345
11.Liu W§,Draheim KM§, Zhang R, Calderwood DA, Boggon TJ.(§, coauthor) Mechanism for KRIT1 release of ICAP1-mediated integrin activation suppression. Molecular Cell.(2013), 49(4 ):719-729.(Highlighted by Nature Structural & Molecular Biology, (2013,20:143) (IF:12.2).
12. Liu, W.,Jankowska-Anyszka, M., Piecyk, K., Dickson, L., Wallace, A., Niedzwiecka, A., Stepinski, J., Stolarski, R., Darzynkiewicz, E., Kieft, J., Zhao, R., Jones, D.N.M., and R.E. Davis. Structural Basis for nematode eIF4E binding an m2,2,7G-cap and its implications for translation initiation.Nucleic Acids Research 2011,39(20):8820-8832.